Many government agencies continue to use legacy systems and software applications implemented decades earlier. Over time, however, these systems are increasingly unable to keep pace with current data needs. Even next generation upgrades can complicate the infrastructure, requiring additional bandwidth and limiting workflow efficiencies.
Our Expertise
Denali Data Systems has supported government agencies across a variety of departments and geographies, including public services and safety, defense, health, and justice. As more public agencies look to digital technology to improve engagement, our customized solutions help them transform how they operate and interact. A federal government-approved vendor since 1990, our custom software applications and solutions replace outdated, legacy operating systems and increase efficiencies, speed workflow, and optimize performance so agency directives can be completed on time:
Working with you on your most critical business challenges
Discovery — Design — Development — Dedicated Support
Denali works as an extension of your team, designing and developing safe and secure application solutions to meet your business needs in a collaborative, communicative environment. Our team of development experts and systems analysts partners with your team at every stage of the process to ensure your project meets your expectations.
Discover how you can upgrade your systems within budget, on your timeline and terms, and without straining internal resources.
Challenge
Los Alamos National Laboratory needed a service company to help them improve and structure custom databases, systems analysis and web solutions. They wanted to engage an expert in data systems solutions that understood testing processes and could quickly identify areas for improvement. In 1997, they partnered with Denali Data Systems to help them bring this challenge to an optimal solution.
Solution
Based on initial assessment to evaluate the functionality of LANL's application/process automation platforms, Denali's primary focus for LANL was to provide custom application development to streamline processes and simplify data management, creating client/server database applications with web interfaces to support overall business processes in a number of groups throughout LANL, including: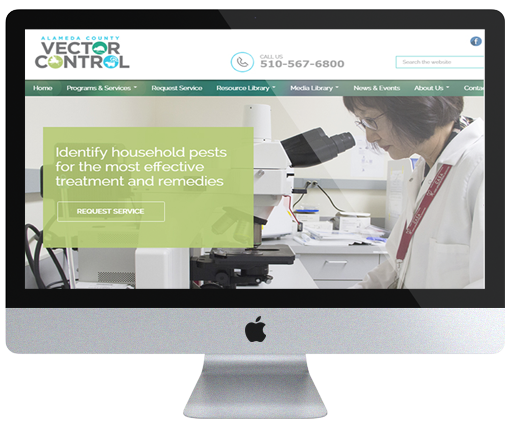 Challenge
Alameda County Vector Control Services
, as public service agency, needed a new, updated and mobile responsive website that quickly and easily communicated critical information to residents in the county. Most importantly, they wanted to ensure county residents could easily locate and submit service requests.
Solution
Vector Control approached Denali Data Systems for a website solution that met the needs of both the agency and those they serve. The challenge was to maintain Vector Control's "look and feel" while also making it easy for Vector Control employees to make updates. Denali focused on the Vector Control brand, using custom icons, colors, and messaging to present the content clearly and do so in a way with which customers were already familiar. The website was built using WordPress – a readily available technology – so staff could easily make site updates and communicate timely, critical information.
Solutions That Move Mountains