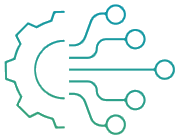 Now more than ever, Marketing teams are called upon to deliver not only tangible revenue results but report on campaign execution from start to finish. Marketing automation platforms and CRM systems have moved beyond simple connectivity to complex tech stacks that create unique customer experiences. It is no longer possible to market effectively without a solid technology stack, and choosing the right tools for your company is integral to your success.
Our Expertise
Denali Data Systems partners with your in-house marketing team to identify the tools you need to move your business forward. Our collaborative approach builds trusted partnerships and helps us solve the most critical digital and business challenges, including:
Working with you on your most critical business challenges
Discovery — Design — Development — Dedicated Support
Denali works as an extension of your team, designing and developing safe and secure application solutions to meet your business needs in a collaborative, communicative environment. Our team of development experts and systems analysts partners with your team at every stage of the process to ensure your project meets your expectations.
Discover how you can upgrade your systems within budget, on your timeline and terms, and without straining internal resources.
Challenge
Visby Medical, Inc.
needed guidance to develop a more robust patient interface to improve communication and ensure patient safety and satisfaction in a COVID-19 pandemic situation.
Solution
Visby engaged Denali to develop and launch a new website to provide information about the company's products (instrument-free PCR tests), patient testimonials, news items and press releases. Denali used Gatsby.js (a React-based open-source framework) within a WordPress environment to deliver on these needs within just a few months. Understanding the need for immediate screening upon building entry, Denali also created a kiosk application (React-native) so Visby could quickly identify a visitor by scanning their driver's license to then print a barcode for the COVID-19 test. Read more about our kiosk solution
here
.
Solutions That Move Mountains